For a while I've made my own bread on and off; it's so much nicer than shop bought bread and I also enjoy the process. I just happened to catch part of a programme on BBC Radio 4 the other day talking about different yeasts for bread and beer making and the difference in tastes they can impart. Intrigued I listened again to the Food Programme on iplayer
It was a fascinating programme. I had no idea how much difference different yeast can make to the taste colour and texture of breads, never mind beers.
I've always just used the dried yeast from the shop for bread, but I've had friends in the past who made basic sour dough bread, so, inspired by the food programme, I'm giving it ago. Once I've got my pet sour dough friend happily growing away I hope to progress to make a beer barm bread with even more yummy flavours. I think a trip to Valhalla Breweries might be in order to get the necessary wort for starting the beer barm. Could be the start of something interesting with bere meal yeast bread.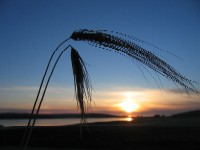 So anyway I've now got 'Margo' in a big glass jar (spoon of natural yoghurt, a few raisins a cup of flour and a cup of warm water) sitting on the top shelf in the kitchen waiting for her to come to life over the next few days like some Frankenstinian experiment Mwahahahaaaaaa!!!!
Watch this space...